Undead Essence is a stackable item in Forsaken World. It has the following description: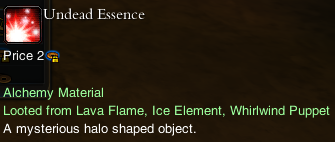 Using Undead Essence
Edit
Undead Essence is used for making various potions in Alchemy.
Obtaining Undead Essence
Edit
The following is a list of ways to obtain Undead Essence:
Looted from a Toxic Lizard
Looted from a Lava Flame
Looted from a Ice Element
Looted from a Whirlwind Puppet
 Elite Ironjaw Grunt in Sea of Oblivion. you may also try all the elites on the sea of oblivion map. again not verified but its a start if its accurate tell us.