This page explains the Quest system. For a list of quests, see List of Quests.
Quests in general
Edit

Quests are a big part in Forsaken World. It tells you a story (main quests) and guides you trough different aspects and systems in the game (tutorials). To start a quest, interact with a NPC that has a exclamation mark above their head. The green exclamation mark means it's a side-quest. The yellow exlamation mark means it's a main quest. While side-quests are optional, the main quests are essential as they give rewards that you need to progress trough the game (like job points).
Finding quests
Edit
At the beginning of the game you will see a NPC with a yellow exclamation mark above its head. Starting with that quest, you walk trough a series of quests, one following up on another. Eventually you will reach Nightfall Citadell, where there is a abundance of NPC's available to give you quests. Of course, there are plenty of quest NPC's on the route to Nightfall Citadell.
Besides looking around for quests, there is the quest finder which can be opened trough the quest window:
1. Click the quest button on the top-right bar on the screen to open the quest window:
2. Click the Find Quests button in the Quest window.
3. This window holds a list of available quests. Once a quest is completed (with the exception of returning (daily) quests) it will no longer appear in the window.
Notes:
This list does not contain all available quests. For example, Henry has the daily check-in quests available but it does not appear in the list.
In the above example a link to the corresponding Quest-NPC is displayed (Dan). This link is not available for all quests in the list. In that case, you'll have to make up the location from the text provided in the description.
Viewing your current quests
Edit
You can view your current quests in 2 places; the Current Quest window and the Quest Tracker.
1. Click the quest button on the top-right bar on the screen to open the quest window:
2. The Current Quest window will appear: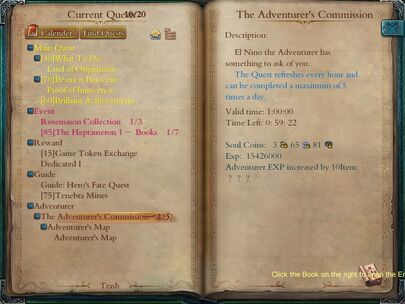 This window will show all of your currently active quests. Clicking on an active quest will display information about the quest in the right section of the window. You can also toggle the Quest Tracker by using the following button:
3. The Quest Tracker will appear/dissappear on your screen: