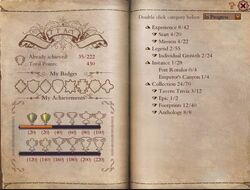 You can gain in-game achievements in Forsaken World by completing a very wide array of different tasks. To view all possible achievements, press the "L" key. You can browse all of the achievements on the right hand side of the screen.
Some achievements that you can accomplish include leveling your character up, gathering footprint cards from quests, killing monsters, and fortifying your gear. Rewards for reaching certain milestones of achievement points range from talent compasses to gems.
Additionally you can view the progress of your current total achievement level by looking at the bars on the left. You will get rewards for reaching certain milestones in the achievement point system. Hover your mouse over any of the trophes to view the reward for reaching that level.